[SRBE Digi003] Scary & Bad Matter – Alone / Try Again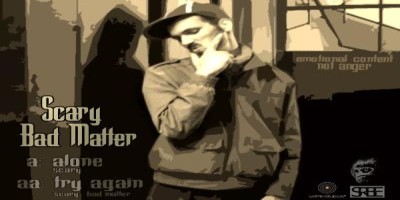 SCARY & BAD MATTER
The 3rd Digital strike by the Berlin based label SRBE
Born and raised in East-Berlin, Germany these two geezers dropped two heavyweight and essential trackz for each and every proper selected recordbag. Emerging from the well known collective Audiomassive-Berlin, Scary & Bad Matter are known for uncompromising, hardcore, dark and technoid drumandbass releases and sets. You will be surprised but mos def not disappointed by this release.
The Motto of the release: "We need emotional content. Not anger. Now, Try Again" -simply the wise choice and planting of the vox sample- Bruce Lee, is absolutely inimitable. We plunge from a spheric liquidish type of tune, gettin the dancefloor ready and the ladys love it like cool j, into a heavyweight, rollin, intelligent type of ganxsta, kung fu banger. Big and Serious music. Berlin-City vibe indeed. "Datz it!"
a. SCARY – ALONE______________________________________
A very deep and atmospheric, oldskoolish type of liquid tune. The ladys will love it, if the djs decide to play it! It simply blurs the constraints people want to put drumandbass music in. Full of Vibes!
aa. SCARY & BAD MATTER – TRY AGAIN____________________
Intelligent. Rough. Heavy. Deep. Rollin. Ganxsta. Kung Fu. Bangah! "We need emotional content. Not anger. Now, try again." Simple. Brilliant. Think. FÄ"nshÇ'u!
myspace.com/srbentertainment
myspace.com/scaryda
myspace.com/badmatter
soundcloud.com/srbe
soundcloud.com/scary
soundcloud.com/bad-matter