[SRBEDIGI015] V/A – Tin Can Floating / Twilight Of The Dark Master (Budoka RMX)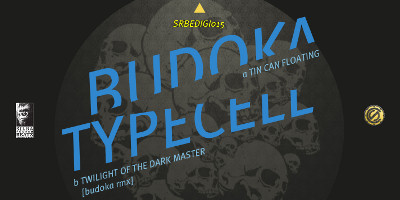 BUDOKA –Â TIN CAN FLOATING
TYPECELL – TWILIGHT OF THE DARK MASTER (BUDOKA rmx)
After his and our biggest release on SRBE so far IT HURTZ from the year 2009, also voted Top 10 National release on Future-Music-Awards the same year, its time in the year of the dragon that we strike hard and spit fiyah with this HQ UK-mastered release.
Playing the electronic guitar in different new york hardcore-bands in the 90s BUDOKA also got infected by the jungle virus almost simultaneous. Promotin dnb parties in the RheinMain area late 90s to releases on established labels like Protogen, T!lt rec and shadybrain he made himself a name as, a thing very seldom in the dnb scene, real musician all samples played by himself,producer.
SRBEDIGI015 underlines this perfectly. listen close!
Also the tunes once again burst the genre cages ppl try to divide drumandbass music in. Plays range from jumpup djs to the darkest selector in the biz.
When naming Protogenrec. its obvious to sort out the rmx he made fort he mighty TYPECELL. Protogens mastermind and labelboss.
Nowadays next to worldwide dj gigs and his job at HR3 radiostation he also plays the electronic guitar in a FunkBand called "Atomic ApeCage Brothers" – we believe to deliver authentic neuroFunk to the headz. Since our claim is WASNT BORN TO FOLLOW we take the U out of Neuro, and leave you with this nasty n wicked NERO-FUNK release on SRBE.
peace!
RELEASE DATE : June 13th – OUT NOW
01 Budoka – Tin Can Floating____________________________

02 Typecell – Twilight Of The Dark Master (Budoka RMX)_____

Budoka on
Soundcloud
Typecell on
Soundcloud