[SRBE Digi002] Drum Cypha – Blunt Object (VIP) / It Hunt's Alone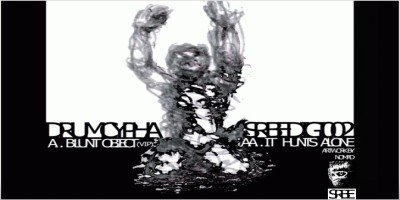 DRUM CYPHA
The 2nd Digital strike by the infamous Berlin based label SRBE.
SRBEDIGI002 is none other than the "Mickey Ward" of jungle,fightin the the mental war within himself "oldskool vs nuskool",the true "breakbeast"-DRUM CYPHA.
Straight out of Pembrokeshire, south west Wales. Drum Cypha is part of the Function Records, Timeless Recordings camp and now also the SRBE Camp.
Predominantly known for dirty, hardcore tracks, he is also known to turn his hand to most styles and thus his tunes have been spun by a wide range of DJs such as Bailey, Digital, Grooverider, Goldie, John B, Fabio, DJ Storm, A Sides, Loxy, Gremlinz, Spirit, Outrage, Subject 13, Crissy Criss, Vapour, Randall, Stranjah, Equinox and many more…..
His tracks have also received plenty of radio airplay on Radio One, BBC 1xtra, Future Flavas NYC, Itch FM, Bassdrive and more….
SRBE managed to sort out these two dutty,perfect combinated and distinctive Drum and Bass Culture Pearls you NEED in a striking set,hence LOCKED in your case.
Last but not least the artwork for this release was put together by NOMAD.

Available at

Beatport
a. BLUNT OBJECT vip____________________________________________
Oldskool vs. Nuskool with a 2013 production skill armor.The prototype of an true jungle MC will call out -"Rrrreeload" everytime this Bleak but Good Vibe pumpin and surprising Bassline Pass thru.Truss me.
aa. IT HUNT'S ALONE_____________________________________________
The trackname is the Game.It hunts alone.Consequent,industrial but Smooth this filthy Floorpredator hunts and hits your Rush.Murk dem Cypha!
www.myspace.com/srbentertainment
www.soundcloud.com/srbe
www.myspace.com/qred
www.myspace.com/nomad_yesmad