[SRBE Digi004] Amaning, Flowpro & Kingz – This Time / T. Rex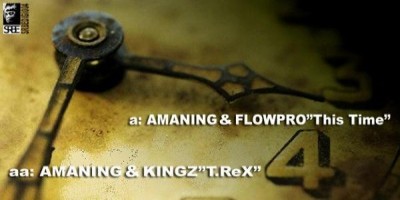 AMANING, FLOWPRO & KINGZ
The 4th Digital strike by the Berlin based label SRBE
Amaning has burst on the Drum & Bass scene with a string of quality releases on over 20 international Labels such as Metalheadz, Soul:R, Renegade, Sudden Def, Soundtrax or BS1, his profile continues to rise with this fullavibesnspirit swaggerin Digital Release on SRBE longside his companion Flowpro on one side and non other than Cologne´s own Kingz.
a. AMANING ft. FLOWPRO – THIS TIME______________________
A solid, absolute summervibin Roller with the special "mental" twist to it. Works on every Dancefloor. Either you warm up and make it hot or you primetime and blaze plus cook, the crew, this ones FIRE and 1ne good vibe!!!
aa. AMANING & KINGZ – T. REX____________________________
As you would assume with the name a very, cruel, cold and meat eating primitive creature, amaning and kingz proof you wrong. They take our audience to the darker, mental side of Drumandbass. Inhale/Exhale and let the raw vibes take you away. An ambitious, demanding piece of drumandbassmusic.
BLAME:
"Amaning is a wicked new producer with what i class as a vintage d&b sound, The Chosen takes me back to those old classic Blue Note days"
DJ SS:
"…yes this guy is of the freshest talents about right now, the new Calibre providing the world with much needed deep drum & bass with flavour & soul 2009 is going to be a very big year for Amaning watch of for big tunes coming from him on the formation stable"
KNOWLEDGE MAG:
"….Amaning is a name you..ll definately be hearing a whole lot more of as we move into 2009!"
myspace.com/djamaning
myspace.com/djflowpro
soundcloud.com/amaning
soundcloud.com/flowpro